The Golden Isles Magazine


July/August Issue 2007




The Episcopal Church in Georgia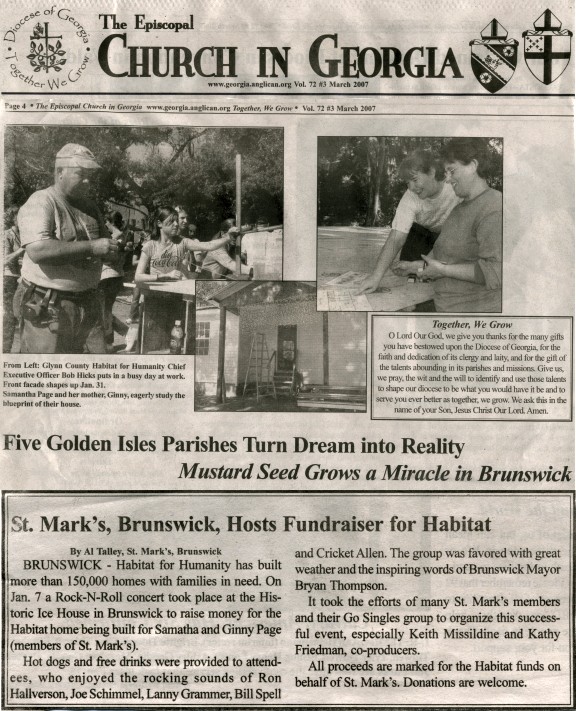 Diocese of Georgia, March, 2007, by Al Talley
Click the article to read the full story!

Coastal Scene


The Brunswick News, January 6, 2007, Cody Trawick
Click the article to read the full story!

Rock n' Roll Concert Raises $2000 for Habitat
Article by Sandy Fowler
St. Mark's Episcopal Church February, 2007 Newsletter
The Historic Icehouse on George Street was the site of a St. Mark's fundraiser for the Habitat of Humanity house on January 13, 2007. Beautiful weather and rocking music were enjoyed by all. Music was provided by Ron Halverson, Joe Schimmel, Lanny Grammer, and Bill Spell, with vocals and keyboard by Cricket Allen.
Mayor Bryan Thompson was very supportive, and spoke positive and inspiring words to the crowd. Many thanks is also given for the hard work of Keith Missildine and Kathy Friedman, co-producers of the event. Thanks to all the Go Singles volunteers that contributed, especially Davis, Hank and Sandy Cooper.
Al Talley, Joan Robertson, Lynn Cody, Skip Steffan, Marian Riccio kindly donated their efforts which were greatly appreciated. Al proceeds are marked for the Habitat for Humanity home being built for Ginny and Samantha Page.



Labor of Love


The Brunswick News, March 1, 2005, Amy Horton
" Keith Missildine combined function and fun when refurbishing the garage building of the old Glynn Ice Co. Complex in Old Town Brunswick "
When the iceman cometh to Old Town Brunswick, these days he drives an SUV. His icehouse is no longer a steaming, soot-blackened monument to the great industrial age, but a warm inviting abode where the heart-pine floors flow beneath chrome pendulum lights. Keith Missildine admits to falling in love with the old Glynn Ice Co. complex on George Street years ago. He rode past the crumbling three-acre complex every day, pining for the buildings that were condemned and slated for demolition. "This was too important of a structure to let get taken away from us," Missildine said. He talked the former owner into selling, and convinced the city's fathers to allow him to restore the complex. For years later, Missildine is making his home in the old machine shop building. Restoration of the main building will comply with Blueprint Brunswick's version for the revitalization of the downtown, and could transform the building into a private, gated community of loft apartments or condominiums. For now, Missildine, a real estate broker, is making a hobby of salvaging heart-pine beams and planks from the disintegrating building, selling the beams and flooring planks and making picture frames to sell on his web site. He started the same way with the three-story, 39 x 37 foot garage building. After the detritus of years of neglect was cleared, "we were looking at four brick walls, a slab and the sky," Missildine said. "It was all a big implosion." Missildine meets with his praise for his efforts now, "but I tell you when I started the project, there were a lot of pundit-type opinions telling me what a bad idea it was." Working without a formal design plan, Missildine worked day-by-day and incorporated the suggestions of his then eight year old son, Hunter, to create a home that combines function and fun. The dumb-waiter in Hunter's closet allows the now ten year old to send dirty clothes (and more often than not, himself) up to his dad's walk-in closet, which includes the household's laundry room. "This was labor of love," Missildine said. "It's a fun place to live."




Preservations to Be Honored


The Brunswick News, February 16, 2004, author unknown
"Rehabilitation makes possible an Efficient contemporary use while preserving significant portions and features of the building."
Glynn Ice Company of Brunswick, Georgia
Visit the Main Site
Page Last Updated 7/9/07